Move over bar carts, the mid-century modern trend is bringing back bar cabinets, and we're so here for this trend. It seems like the mid-century modern style, and the bar cart trend is meant to be together as the latter was a huge element of decor in traditional mid-century interior design. Trust us; even if you're a bar cart lover, you're going to love our favorite bar cabinets picks. 
What Makes a Great Bar Cabinet?
While you can easily turn a bookcase-style cabinet into your bar cart, there are some specific elements you should look for when investing in this piece of furniture.
#1 – It Must-Have Designated Wine Bottle Storage
Even if you're not a wine person, choosing a bar cabinet with a designated wine bottle storage solution is a must-have. Many of your favorite wines are often best enjoyed at room temperature. Since you don't have a dedicated wine cellar where all your wines age to perfection, you can at least settle for a bar cabinet, which is the next best thing.
#2 – Comes With a Built-in Stemware Rack
The last thing you want while enjoying a glass of wine or a cocktail by your living room is to run back and forth to the kitchen for supplies. Having a built-in stemware rack gives you plenty of storage for glassware without crowding the top of your bar cabinet. Not to mention, having them also helps prevent breakage since your glasses will be held securely inside.
#3 – A Water-Resistant Surface
Ig might be obvious, but choosing water-resistant furniture isn't always on the top of our mind. With wine and spirits, you're dealing with tough stains to fight. Make sure your bar cabinet features water-resistance surfaces that won't soak up stains, and you can easily clean with a paper towel or a damp cloth.
Where to Position Your Bar Cabinet?
When thinking about the perfect location to place your bar cabinet, you genuinely have to consider your use. If you usually entertain by your living room, then consider placing one between the sofa and accent chairs. However, make sure to have plenty of walkable space to get into and out of the bar cabinet without tripping or feeling restricted of movement.
Another excellent spot for your bar cabinet is by the dining room. This is a more classic approach to the bar cabinet and works best for rectangular and low-profile styles. They will not only serve you as a storage solution for your glassware and favorite wines. But, they will be the perfect spot to display a large mirror, decorative accents, and important China or other kitchen decor items you want to showcase.
Finally, one unusual yet practical spot to add your bar cabinet is by the entryway. This location is incredibly helpful for those living in small apartments or tiny spaces. Not only will the bar cabinet double as an entryway furniture piece, but you will also have an easy-to-access spot to add your bar cabinet that won't interfere with the rest of your home's layout.
Of course, you can add a bar cabinet virtually anywhere you want in the house. Many people love adding a small bar cabinet in their home offices. This latest option is becoming quite the trend since the home office is taking such an essential place in our home's decor nowadays.
Our Favorite Bar Cabinets Right Now
Now that you have a better idea of what to look for in a bar cabinet, plus the best places to add them into your decor, it's time to do some shopping. With so many bar cabinets out there, it can get a bit overwhelming. To help you speed up the process, we've rounded up some of our absolute favorite styles that follow this year's trends and will adapt to future trends.
V Bar from Article ($899)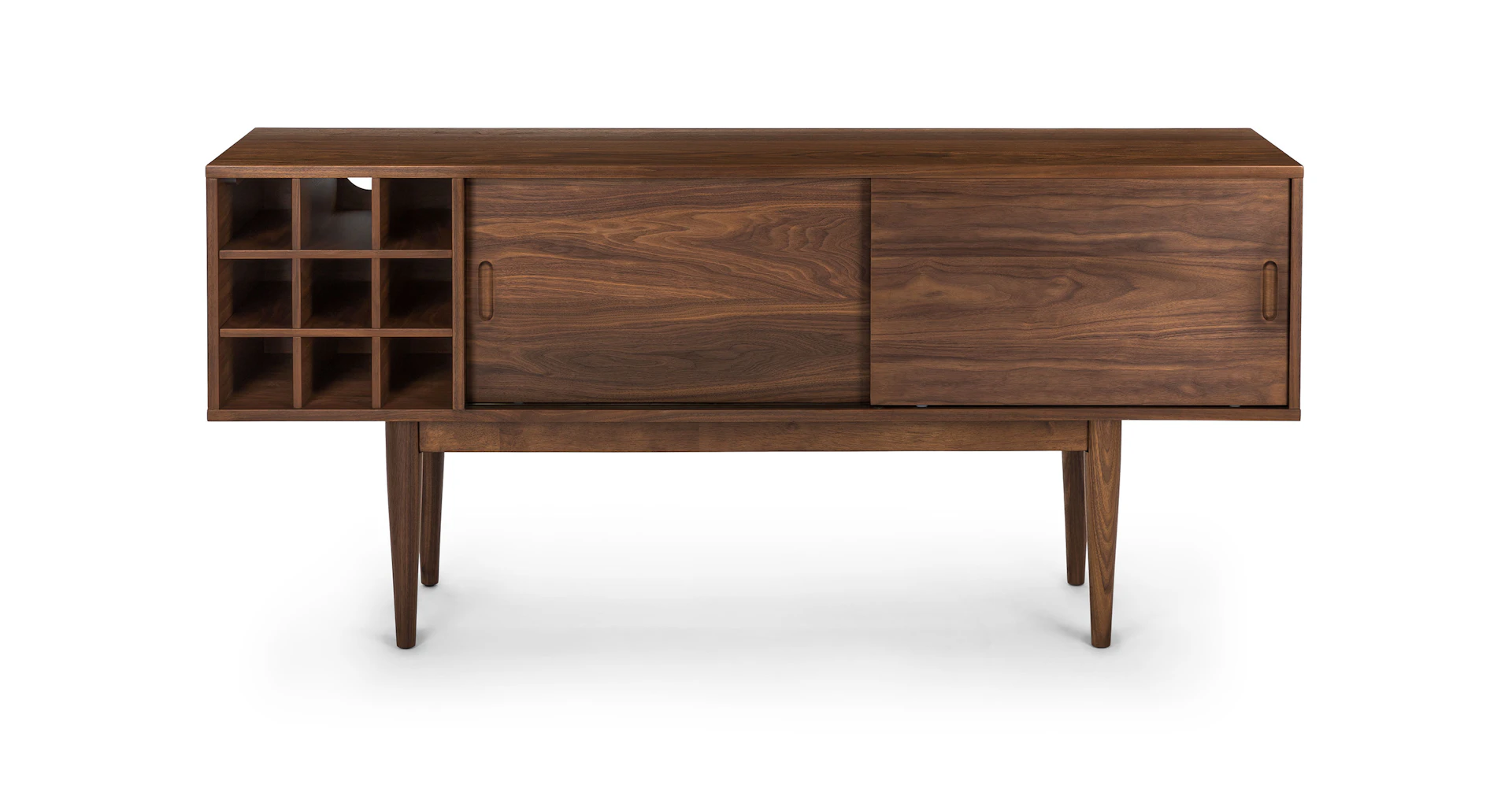 The ultimate mid-century piece of furniture for your home, perfect for the living room or dining room area. The V Sideboard from Article is all your walnut dreams come true. The built-in wine rack gives you plenty of space to display your favorite wines. Plus, the sliding doors give you enough storage space to keep dishes, tablecloths, and other items tidy-up.
Jax Cerused Entryway Cabinet with Doors from CB2 ($569)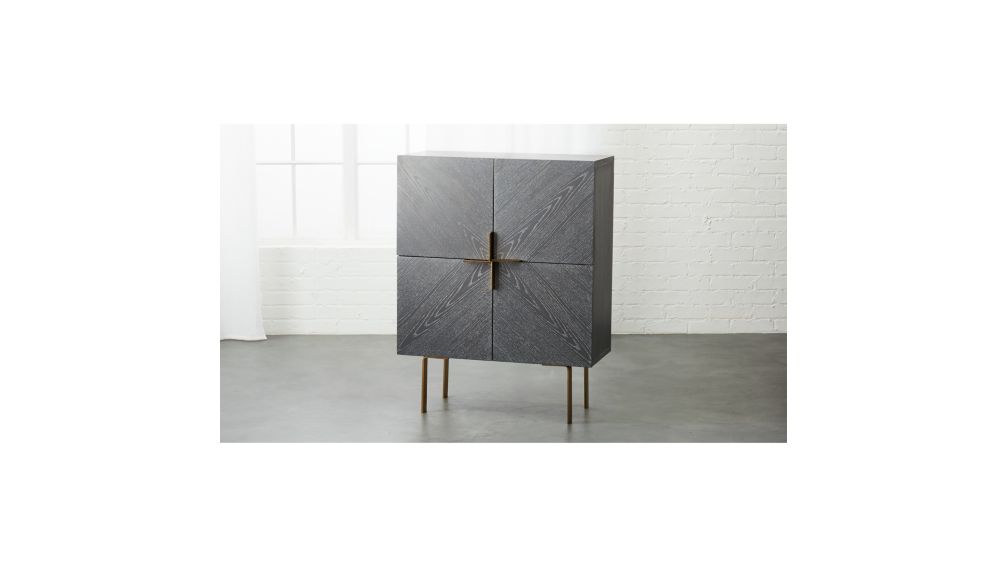 Don't let its name fool you; this Jax Cerused Cabinet from CB2 is so versatile it can masterfully blend to any room of the house. The size is just perfect for adding it as an accent piece in your living room or small office. Or, combine a couple of them to create a larger cabinet to keep by the dining room that also gives you enough space to showcase decorative accents. 
Monroe Dark Wood Bar Cabinet from Crate & Barrel ($1,240)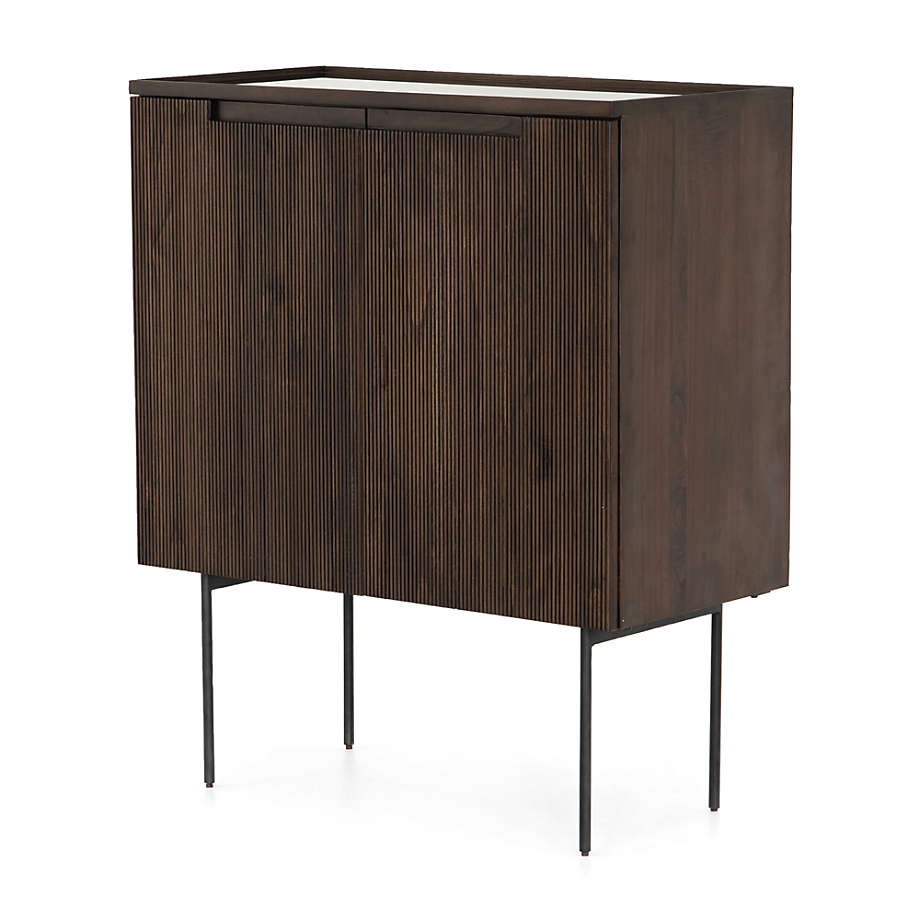 Don't let the simplicity of this mid-century bar cabinet fool you. The Monroe Dark Wood Cabinet from Crate & Barrel has everything you need to set up a fabulous bar at home. Take advantage of the inset bronzed mirror on top to highlight your favorite bar accessories. But, don't be afraid to also incorporate fresh flowers or planters on top of this cabinet to integrate it into the rest of your home decor. 
Deluxe Tamboured Bar Cabinet from Anthropologie ($1,998)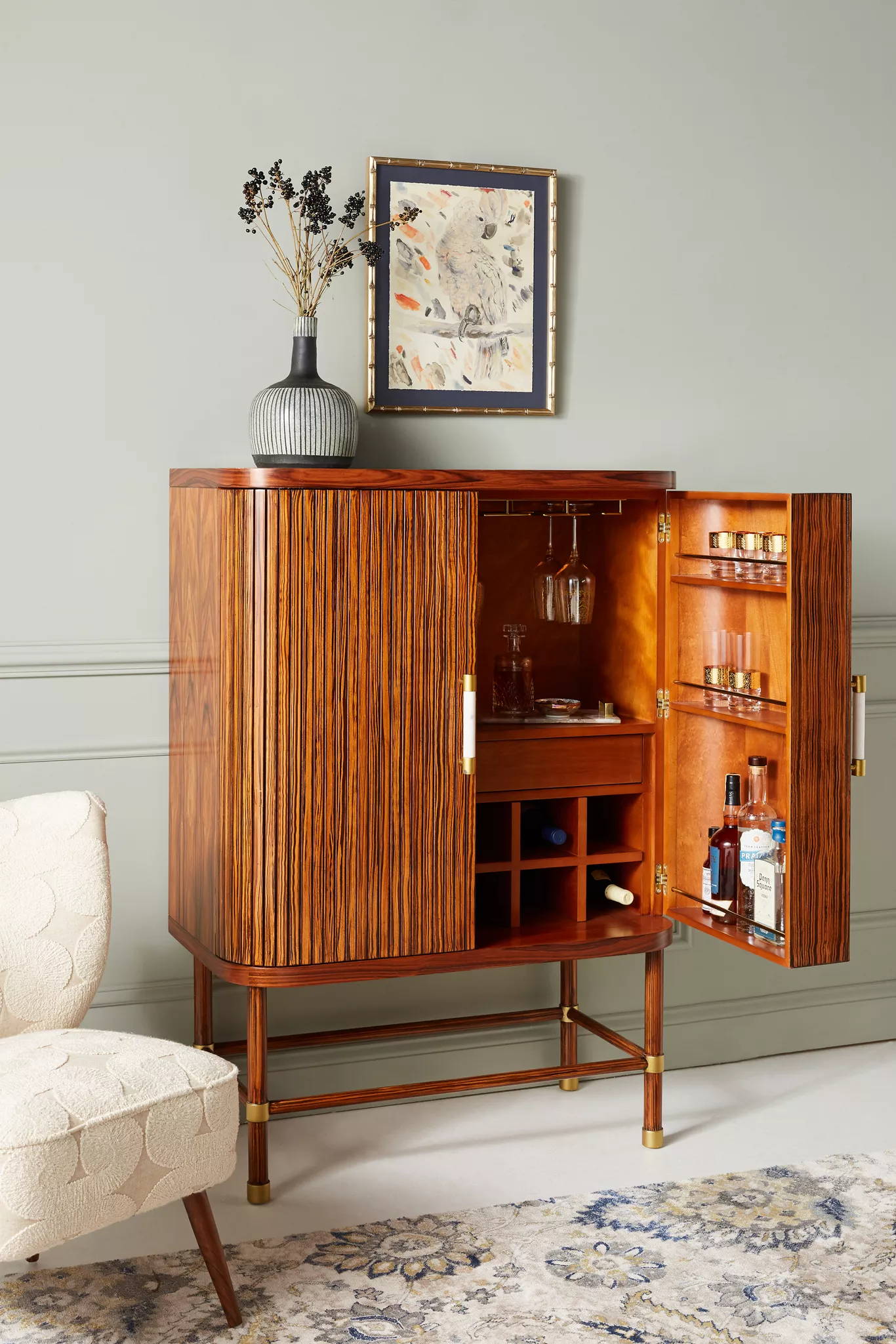 The details on this bar cabinet are so stunning; you might want to keep it at least half-open all the time. We love the modern take on a decidedly 1950s, mid-century silhouette. The Deluxe Tamboured Bar Cabinet from Anthropologie is a beauty on its own that sits perfectly in-between accent chairs by the living room or at the end of the dining table. Let it shine on its one with little to no decor around it. You can choose a complimentary art wall piece to complete the look and feel of the bar area. 
Vivien Bar Cabinet from West Elm ($799)
For a mid-century bar cabinet with old Hollywood glamour influences, the Vivien Bar Cabinet from West Elm is the perfect option. The grooved details with the bronze-finished hardware are complete for the living room and dining room area. The ideal size to place by the entryway, at the end of the dining room table, or by a corner in the living room for a unique decorative accent.
Bar Cabinets Accessories
Now that you'll have this new extra space to showcase your beautiful barware collection, here are some gorgeous accessories that will make your bar cabinet more intriguing. Plus, having all these tools handy will upgrade your barista game in no time.
Deco Barware from West Elm ($79.50)
Of course, you want to have everything you need to use your bar cabinet handy. Make sure to invest in beautiful barware and bar tools that you can showcase on top of your new cabinet. This Deco Barware with Stand from West Elm is perfect for helping you mix the most amazing cocktails in style.
Kimpton Decanter from CB2 ($49.95)
A beautiful decanter will always add an air of sophistication and intriguing quality to your room. We love the Kimpton Decanter from CB2 for the role. Its simplistic yet elegant form will capture everyone's attention without overpowering the room. Plus, you get to keep your favorite spirits ready to pour when you're entertaining or having a drink after diner with your family.
Mae Champagne Gold Ice Bucket from CB2 ($59.95)
If you're going to be entertaining a lot, consider investing in an ice bucket. We love the Mae Champagne Gold Ice Bucket from CB2. First of all, it adds a layer of glamour and sophistication to the bar cabinet space. When it is not in use, this ice bucket will still look astonishingly as a backdrop in your living room or dining space. Then, when you have guests over, it makes entertaining so much pleasurable without having to run back and forth to get more ice. What else can you ask for?
Looking for More Bar Cabinets Ideas?
If you're loving the concept of incorporating a bar cabinet to your existing decor but have no idea where to start, start a project. Work with one of our online designers and let us find the ultimate mid-century bar cabinet to match your home's style and your budget.