When it comes to interior design challenges, studio apartments are among the most challenging spaces to work with. Figuring out how to create a beautiful space, maximize the space for storage, and separate the rooms in a way that adds privacy and still makes the apartment look put together. Keep reading to see how our online interior designers tackle these challenges and the beautiful spaces they designed.
A Modern Minimalist Studio Apartment Designed for Functionality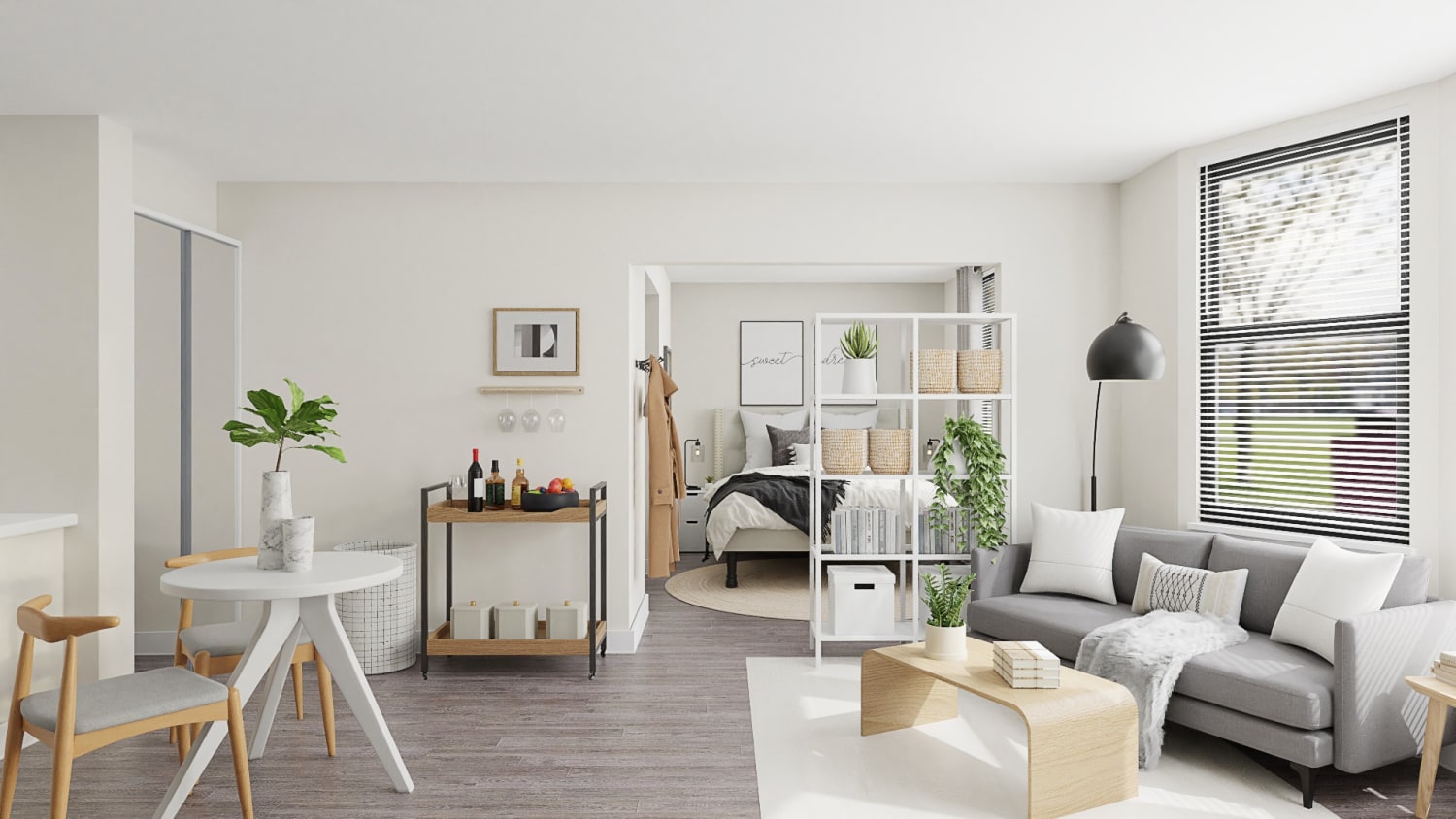 The words monochromatic and minimalist studio seem to be meant to be together. Choosing a monochromatic color scheme is the easiest way to make the room feel light and airy. But, don't narrow your ideas. Neutral and monochromatic palettes aren't exclusive whites and grays, you can experiment with other colors like blues, yellows, and oranges; the options are endless.
Our interior designer, Elle Applewhite, recommends keeping finishes light and the furniture structure minimal to make the room appear larger. "Look at multifunctional pieces that you can use to divide the rooms and maximize space and functionality," she suggests.
When working with a studio apartment, the most significant design challenge you'll face is separating the different areas. Using items like an open bookcase can act as a divider between the living room and the bedroom while providing extra room for storage. The use of prominent area rugs for the bedroom and the living room are crucial elements to break up the space.
Last but not least, the use of storage space doubles as design elements. Consider adding features like a bar cart, woven baskets to maintain the area clutter-free, and cabinets with closed drawers to store away things like extra linens, dishes, and more.
To shop this room, click here.
A Mid-Century Boho Studio Designed for Privacy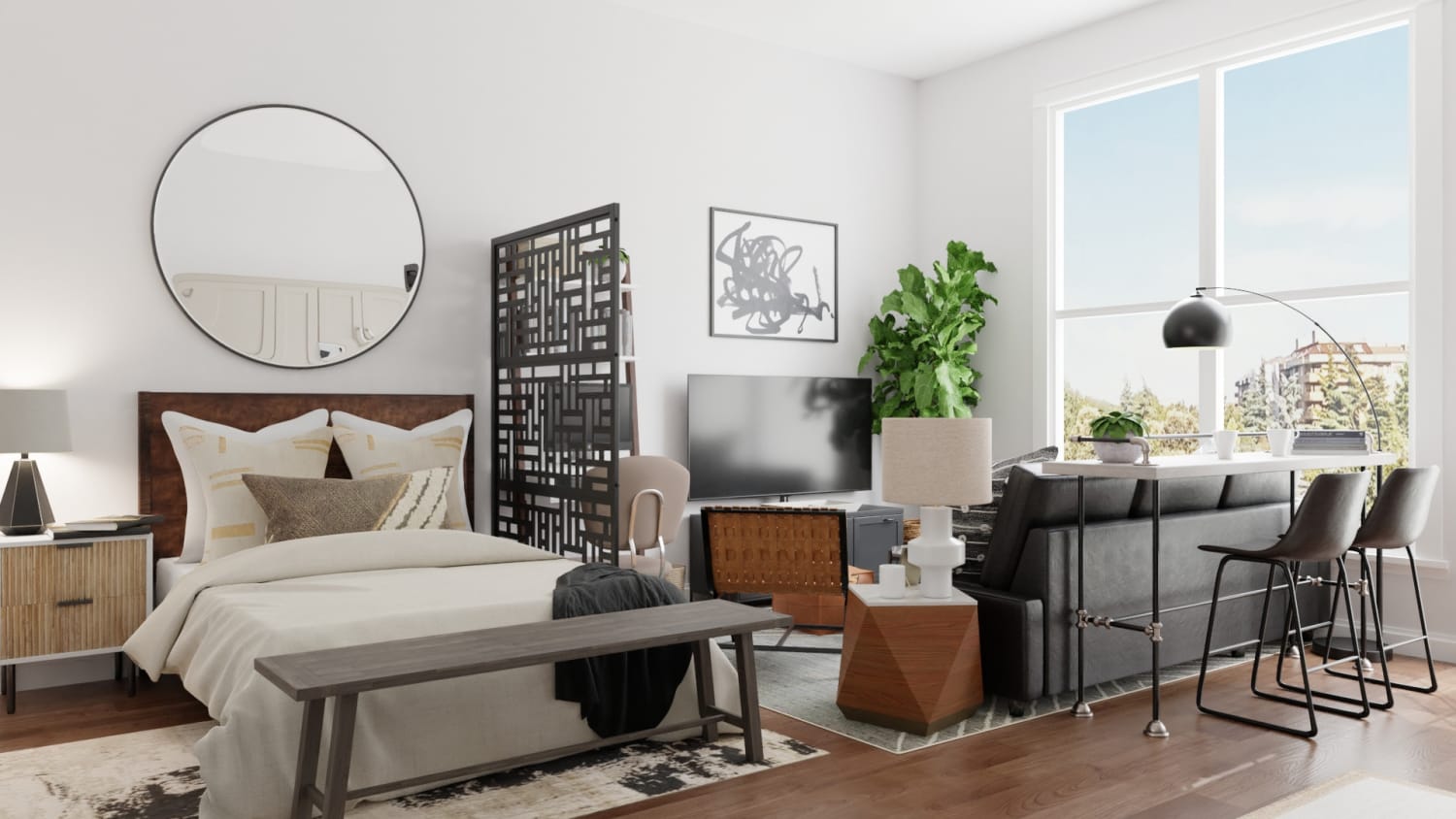 When working with a tiny space like an urban studio apartment, maximizing space can be challenging. The key here is dividing the bedroom from the living room and kitchen area to add privacy and create the illusion of multiple rooms in the studio apartment. To make the apartment look more spacious, the designer kept the color palette and accessories in a neutral scheme. "Using rugs to delineate spaces in a studio apartment is key, so to the eye, it looks like two different rooms," says Lauren.
We asked our designer, Lauren Kokenes, for advice, and she says the key is to "think vertically and chose multifunctional pieces that maximize your space." For this design challenge, Lauren chose pieces that not only served their primary purpose but also added additional storage, which can be hidden in end tables and storage ottomans.
For a studio apartment, functional pieces like a ladder-style desk allow for workspace area while providing additional storage space. Other elements like a narrow hightop table behind the couch doubled as a dining table, extra seating space, and depth to the apartment. Finally, mirrored elements can make the apartment look instantly more spacious.
To shop this room, click here.
A Statement Boho Studio Designed to Impact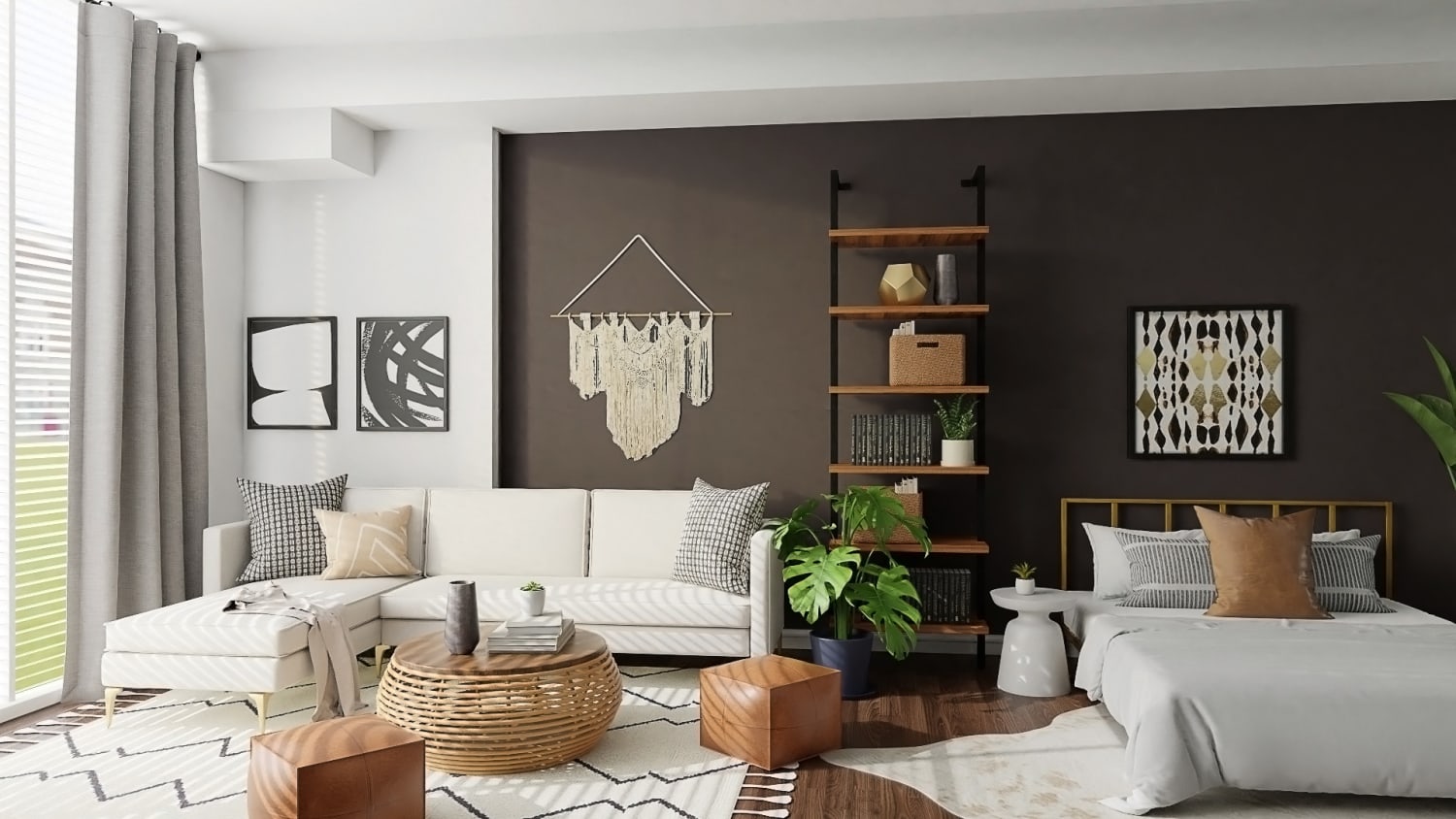 Not every studio apartment is set to have dividers like bookshelves or screen walls. However, you can still divide the space and create the illusion of separate rooms within the studio. For this look, space dividers looked like area rugs and ladder bookshelves that designate each space.
"I love breaking up the space with a tall bookcase that also provides storage, which is key for small spaces," says Marisa Rhone. Play with wall paint colors to divide the studio into separate areas; for this apartment, Marisa chose a bold, dark accent color to create the illusion of two different rooms.
Their accessories and layers recognize modern boho styles. But, the more accessories you add, you run the chance of making the place too crowded. Opt for statement pieces and take advantage of the vertical space to hang wall art and mirrors that create the illusion of more space and add light to the room.
To shop this room, click here.
Feeling Inspired? Let's Create!
If you're ready to take your studio apartment to the next level, choose your package today and start a project. Collaborate 1:1 with our online interior designers and create the studio design space of your dreams.