After the kitchen, the living room is the heart of the home — especially during the holidays. And when it comes to holiday decorations, there's no doubt that sprucing up your fireplace mantel is the perfect spot to start. We know that settling on the ideal decorations for your mantel can be a daunting task. So, we asked one of our interior designers, Sarah Nelson, to share some of her go-to tips to decorate this area. 
Whether you're going for bold and colorful holiday decor, just want to add a couple of items to your existing decor, or want to channel your creativity to dress up your mantel, these ideas won't disappoint. Keep reading to learn the easy steps Sarah takes to transform her fireplace mantel every year for the holidays. 
Drape a Garland Across the Mantel
A fool-proof way to instantly transform your fireplace mantel is by adding a garland. Even if you don't add any decorative pieces over it, just having that touch of greenery in there will give you that cozy look. Thankfully, Sarah says nowadays you can ding overly elaborated garlands with built-in lights and ornaments that take away all the guesswork.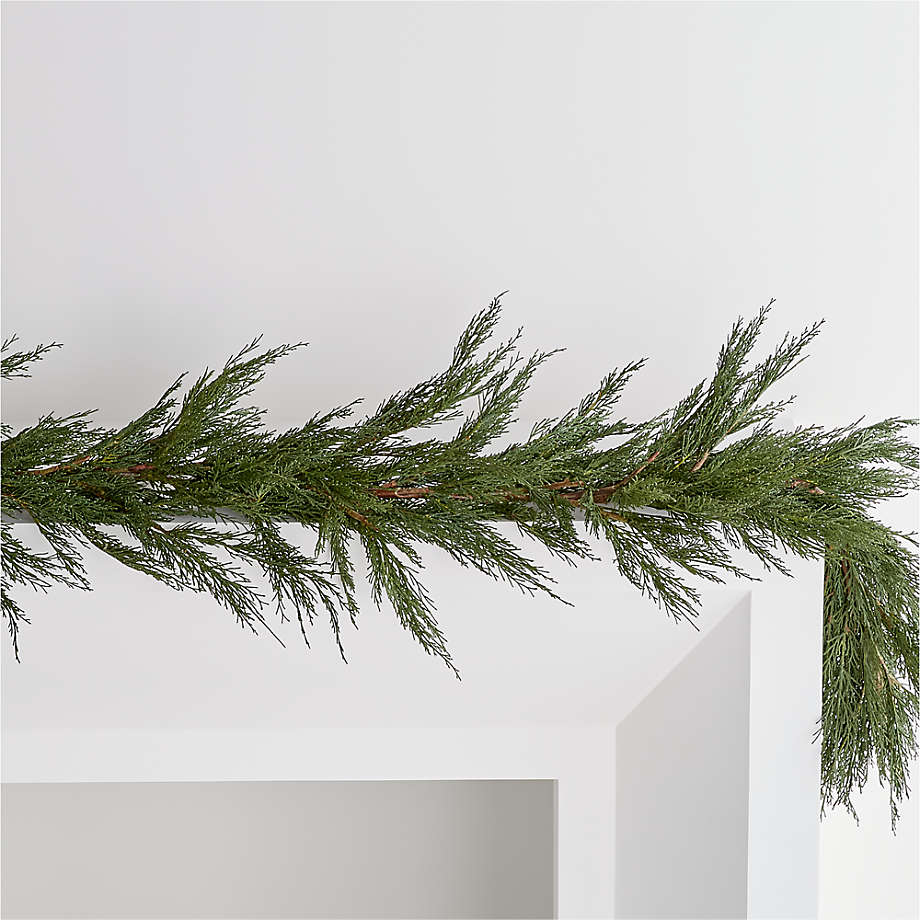 Get It: Cypress Garland, Crate, and Barrel.
Sarah's favorite pick is this simple but elegant cypress garland. This is the perfect pick if you already have a lot of decorative elements over your mantel. It works well for all decor styles and adds a touch of greenery to your living room that will pair well with your Christmas tree. 
Buy This: Pre-Lit Faux White Berry Garland, Pottery Barn.
If you're trying to get a more winter-white holiday look, you can try this white berry garland from Pottery Barn. It gives you that magical, frozen-like aesthetic that screams modern, clean, and sleek. However, this garland can be quite versatile. When you pair it with the right set of decorative objects, it can transform to match any style you want.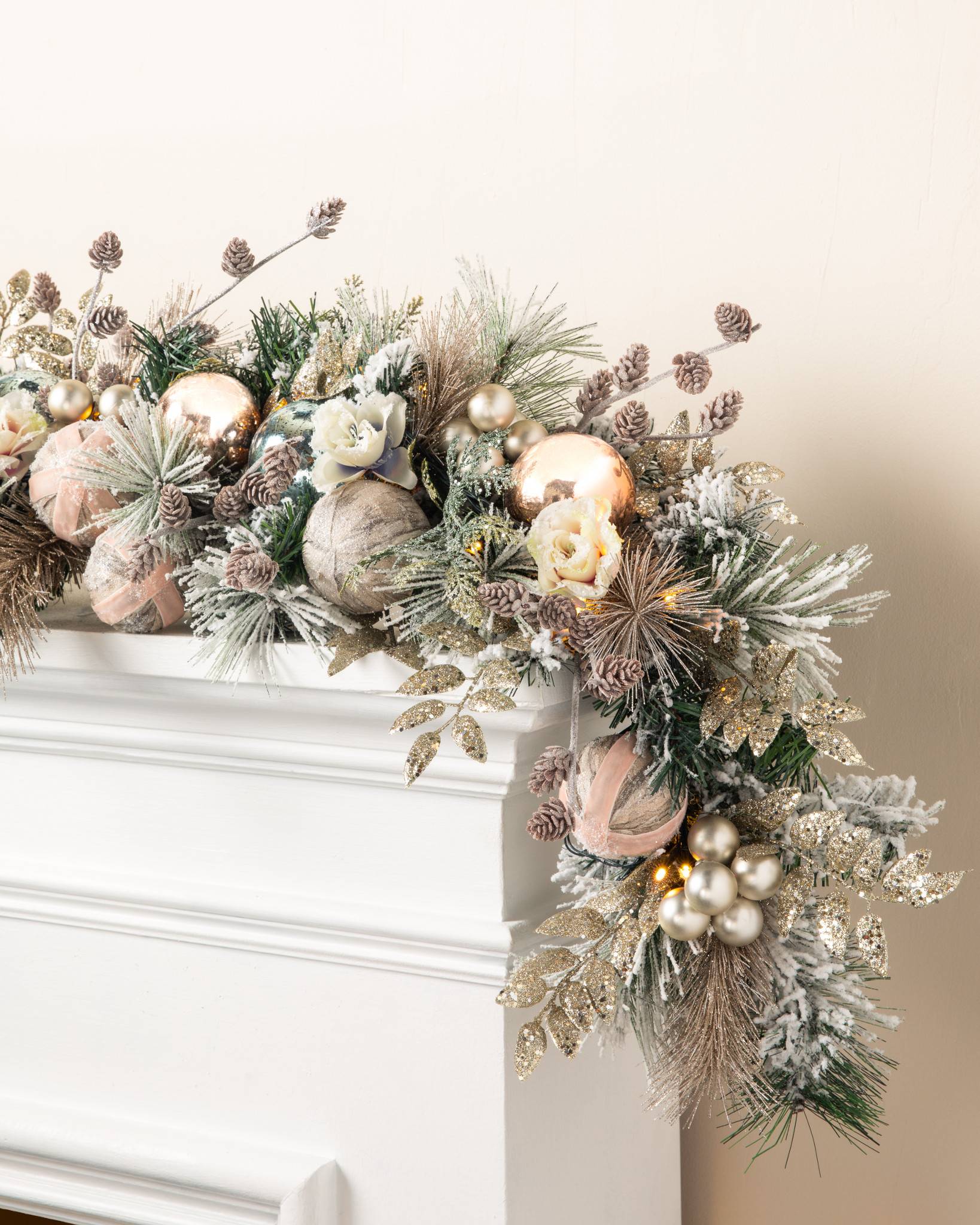 Get It: Winter Wishes Foliage, Balsam Hill.
For those looking to create a dramatic holiday look, this winter foliage garland is the best choice. It comes with ornaments and accessories that make it stand out on its own. However, Sarah says you can still add decorative objects with sleek and clean lines to add more depth and layers to your mantel decor. 
Up the Ambiance With Candles
Candles not only create ambiance with their scent but today, they're decorative pieces too. While I love to light up my candles, I always make sure they come in decorative holders that look fabulous when they're not in use. Sarah says it is a quick trick that comes with double purpose to decor your home for the holidays.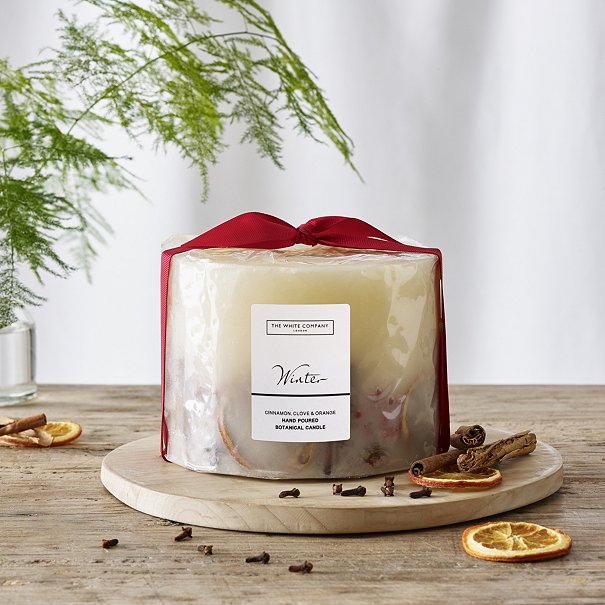 Get It: Winter Botanical Large Candle, The White Company. 
Including a large decorative candle by your fireplace mantel can serve as a festive accent. Try to find one like this one from The White Company that comes with the perfect holiday red bow. This is definitely one of those candles that you don't need to lit to get what you need from them.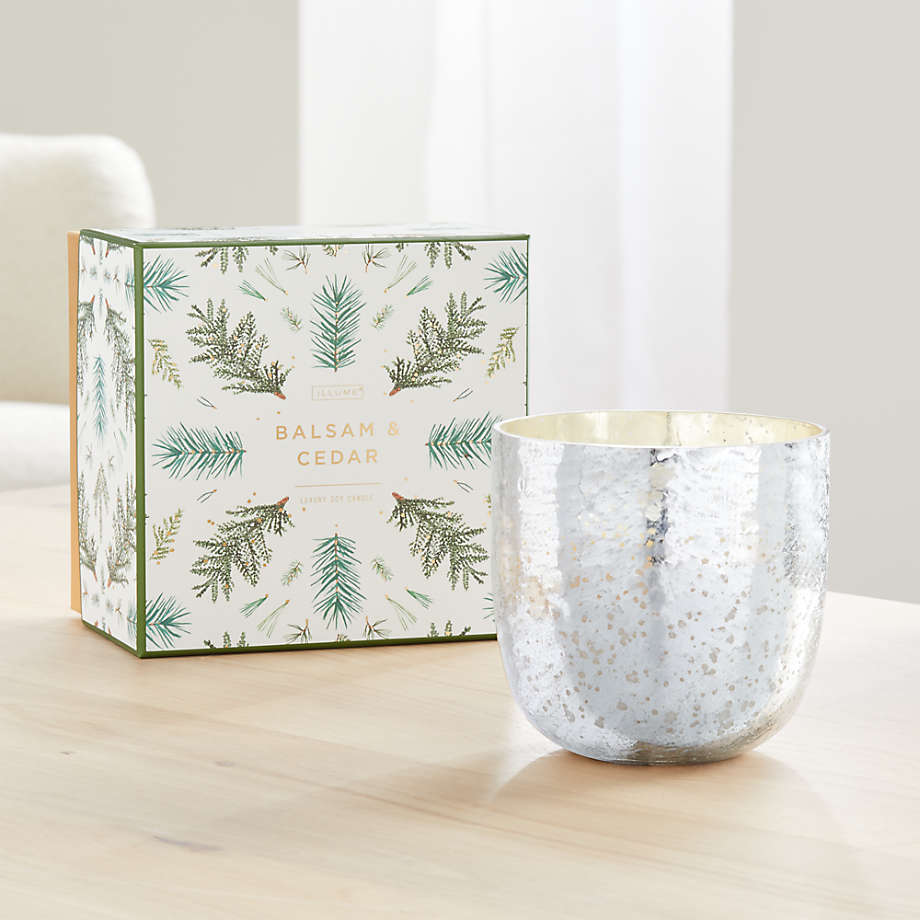 Buy It: Balsam and Cedar Luxe Sanded Mercury Glass Candle, Crate, and Barrel.
If the scent of balsam and cedar is what sets the holiday tone for you, then this one from Crate and Barrel is a must-have. Like I mentioned earlier, this is one of those two-in-one candles because you get all you want from a scented candle, paired with a festive candle holder.  
Get It: Crushed Candy Cane Candle, Voluspa.
Here's one candle that mixes the best of both worlds. Its candy cane, peppermint scent will immediately transport you to a winter wonderland galore. At the same time, its festive decorative holder adds a touch of color and holiday charm to your mantel decor. 
Include Something Festive
Now that you have the basics, Sarah suggests you pepper in some festive items. Think ornaments, stockings, mini trees, or other seasonal things that truly make it look joyful and festive. 
Get It: Mongolian Faux Fur Personalized Stocking, Pottery Barn. 
Nothing screams holiday decorations than personalized stockings hanging from the fireplace mantel. They can be cheesy and overly done, but nothing makes us more nostalgic than looking at those stockings every year.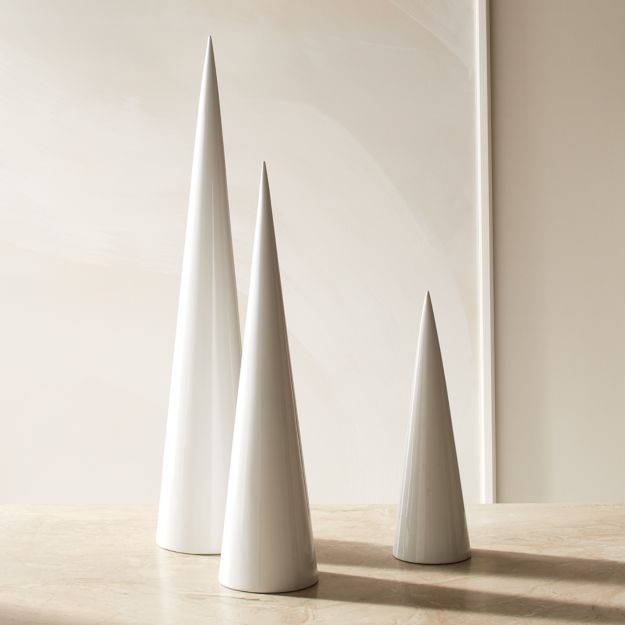 Buy It: Surrey Lacquer Trees, CB2. 
Another classic element to add over your fireplace mantel to bring in the festive spirit is these lacquer trees. Pair them with some loose ornaments, LED stars, and holiday family photos to complete the look. 
Buy It: Light Up LED Wire Star Ornament, Pottery Barn. 
While your fireplace mantel doesn't have to lighten up like a Christmas tree, you can bring some light to make it look even more special. Sarah is obsessed with how adorable this LED star ornament looks over her fireplace mantel, and we're sure you will too. 
Swap Out Existing Artwork
Sarah understands that not everyone can try this trick. But, if you have framed artwork hanging over your fireplace mantel, consider swapping it for something more festive. It can be something along the lines of your holiday decorations theme or something that follows the same color palette. 
Get It: Christmas Holiday Night Iii Framed Art Print by Mmartabc, Society6.
Here's an adorable example of what a holiday-themes artwork could look like. It isn't overly cheesy, and it doesn't need to have a reindeer or Christmas tree to fit right in with your holiday decor.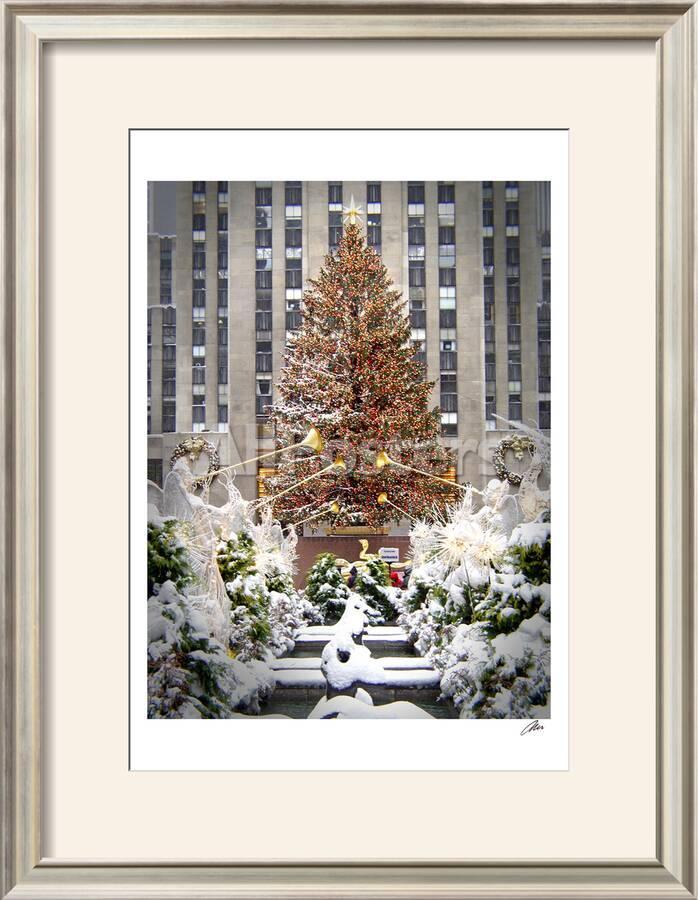 Buy It: Christmas Tree at Rockefeller Center, AllPosters.
But, if you want to make it more evident, a beautiful holiday picture like this one of the Christmas tree at Rockefeller Center is a great idea. Also, keep in mind that you don't need to hang these at all. Sarah suggests adding a cluster of two or three small picture frames by a corner to add a touch of holiday decor and fill up visual space.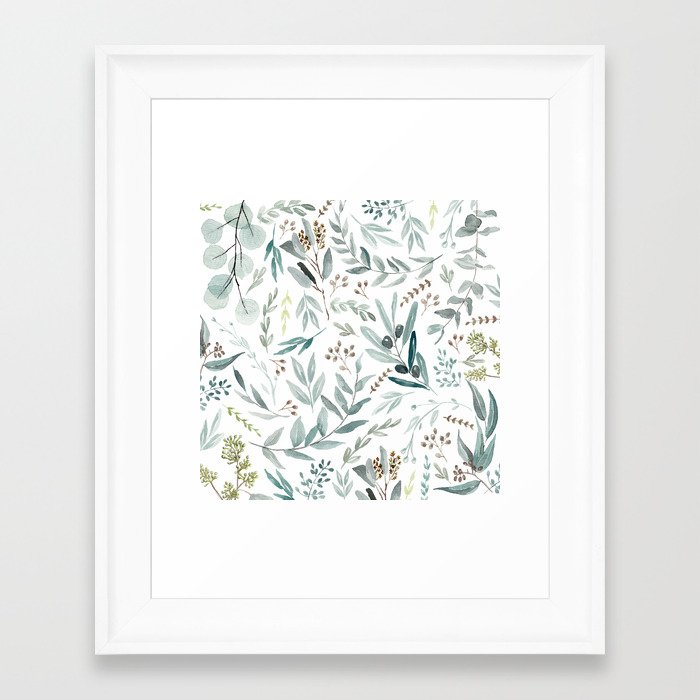 Get It: Eucalyptus pattern Framed Art Print by Anis, Society6.
For a less obvious frame print that still has a festive aesthetic, we love choosing watercolors that incorporate herbs like eucalyptus. This print by Society6 is one of those options that you can seamlessly add to your cluster. Plus, once the holidays are over, this is the kind of art that will look great on the guest bedrooms or by the guest bathroom.
Add a Wreath
Last but not least, Sarah says a fireplace mantel can't be complete without a wreath. She even recommends placing it over your mirror (if you have one) to add that final touch. Like garlands, wreaths can be as straightforward or as elaborate as you want them to be. Ideally, you want to pick one that matches or complements your fireplace mantel garland. Otherwise, you might add too many layers and make the arrangement look too busy.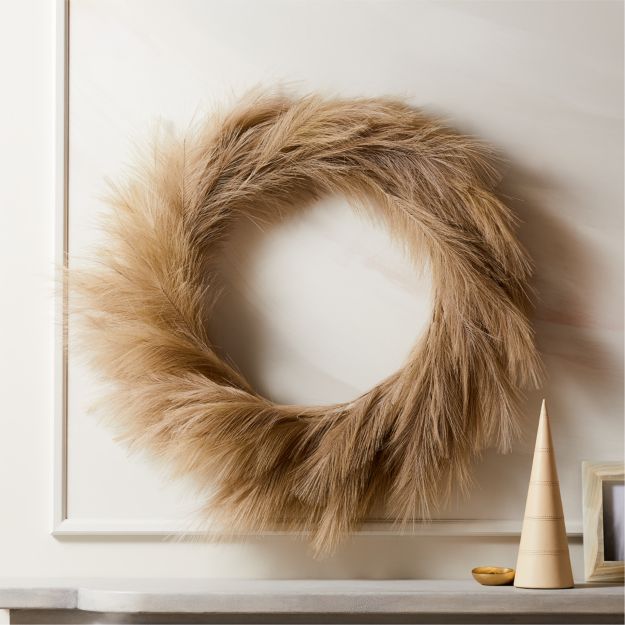 Buy It: Faux Pampas Taupe Wreath, CB2. 
A popular wreath among our designers, Sarah, is currently crushing on this wreath from CB2. She says that its simplicity makes it the perfect element to elevate the decor around the fireplace mantel without fussing too much.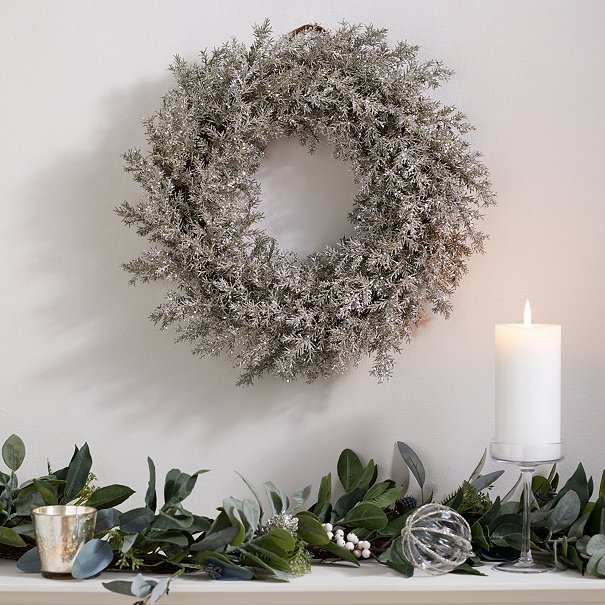 Get It: Sparkle Wreath, The White Company.
But, if you want to add a bit more texture and shine to your mantel, then this one by The White Company seems like an excellent option. I gotta say, even if nothing else on your mantel has glitter, adding this touch of sparkle to the decor can be just the icing on the cake.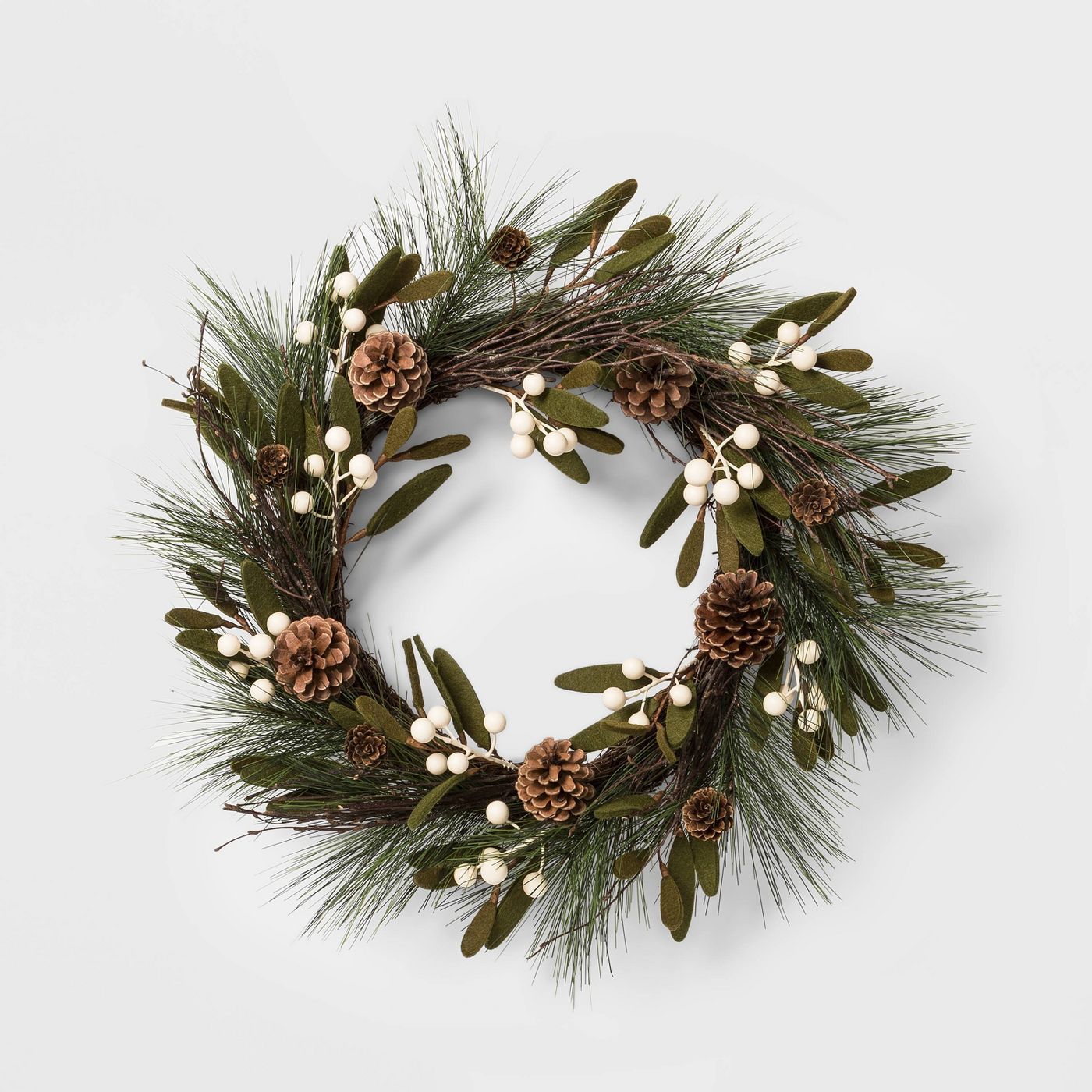 Buy It: Christmas Green Felt Leaves White Berries Pinecones Artificial Wreath, Target.
But, if you're looking for the happy medium in between, you can try something like this wreath from Target. It gives you the touch of greenery you want from a garland and the decorative elements from festive wreaths. These types of wreaths can also be spruced up with some string lights to make them look more festive. In the end, everyone's happy. 
More Fireplace Mantel Ideas
A quick Pinterest search can throw thousands of fireplace mantel decor ideas for the holidays. It can get pretty overwhelming rather quickly. Stay tuned for more fireplace mantel ideas as our designers are always sharing their favorite tricks and picks. Plus, if you think the holidays are the perfect time to spruce up your home decor, why not start a project. Talk to one of our online interior designers to start transforming any room in your house into a joyful space that sparks nothing but joy.