When you're renting, your decor options might seem limited at first glance. But, believe us, when we tell you, there are a million ways you can revamp a rented apartment to make it look and feel yours. A little while ago, a reader was trying to figure out how to style their bohemian living room with an accent wall that included elements they could then take with them when it came to moving out.
Luckily for them, decorating accent walls can be one of the easiest things you can do to bring life to an otherwise boring-looking apartment. Keep reading for another rendition of Learning with Spacejoy, for some inspiration you can use at your home as well.
Dear Spacejoy,
I have a large TV in my living room, but it's on an accent wall. I need inspiration and advice on how to style this wall. Because I'm currently renting my apartment, I'm looking for transferable elements that I can move to other places when it's time to move. Please HELP!
Dear Reader
We all tend to think that a console and the TV would be enough to cover up an accent wall. But, in reality, we're leaving so much real estate available that has tremendous potential. If you have a bohemian vibe in your house, you can definitely use the space around your TV to add boho-inspired elements that make it feel more cohesive and thought out than just displaying your TV on an empty wall. Here are some tips to consider.
Use Ladder Bookshelves
We love the versatility of ladder bookshelves to add layers to an accent wall. They're the perfect "movable" item to add to your home's decor. For a boho-inspired look, try filling the shelves with greenery, vases, decorative objects, and wicker baskets.
Remember, this can also become a functional space. When you add larger wicker baskets, it gives you additional space to store away throw blankets, books, small pillows, toys, and more. This way, you can keep your living room organized and tidy up easily.
Add Wall Art
Moving on to some wall art. We often think that the wall with the TV shouldn't have wall art, but who set that rule? If you have a broad wall as your TV wall, there's plenty of space to add wall art to spruce up the wall and make it less about the TV and more about your home. You can choose traditional canvases, bring in decorative wall accessories, or even use family photos to showcase next to your TV console. Adding a few items around the TV can make the wall feel less empty without oversaturating it.
Frame It With Bookcases
We sometimes underestimate the design power of bookcases. We love these open-style shelves because they not only work as a fabulous frame for your TV, but they also let the eye get a peek of the wall, thus making the wall look more fresh and open.
Using bookshelves to decor your accent wall is a quick designer trick because you don't have to worry too much about finding the perfect balance between wall art and decorative elements; the shelves guide you. We recommend adding a couple of baskets, some books, and greenery to give it more depth and create interest.
Fake Your Built-Ins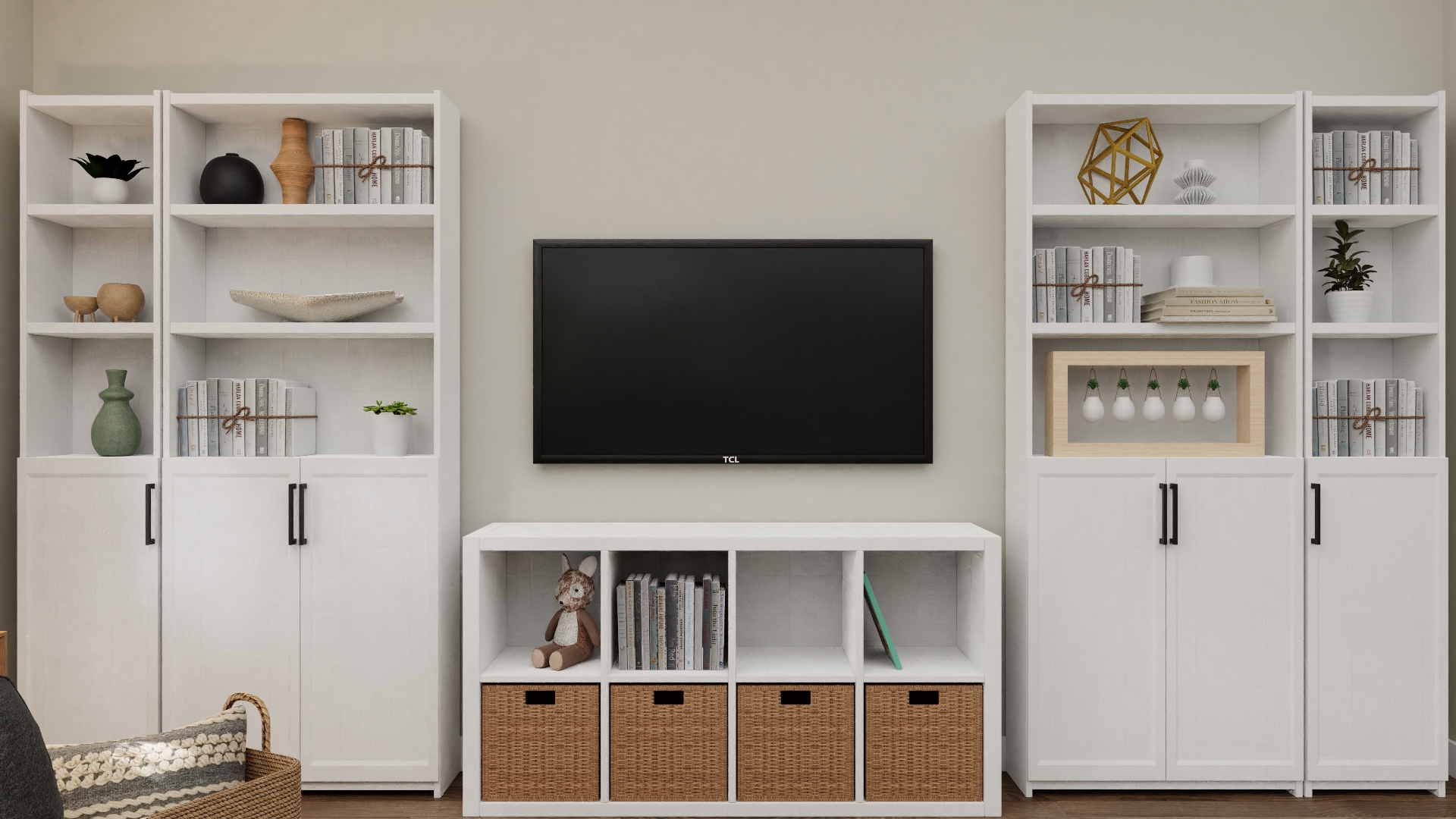 Built-ins are an excellent way to transform an accent wall. They not only give you additional storage space, but they take away all the guesswork when it comes to decorating around your TV. You can turn to our guide on decorating built-ins for figuring out what to add and how to layer different items. But, in the meantime, we suggest you think of decorative accents in different shapes, colors, textures, and heights.
To fake a built-in, all you have to do is repurpose how you combine bookcases. We added a stackable bookcase for this room and paired it with two large bookshelves in a similar style. By placing these together, you get the illusion of having a built-in that you can take down and take with you whenever it's time to move out.
Frame It With Plants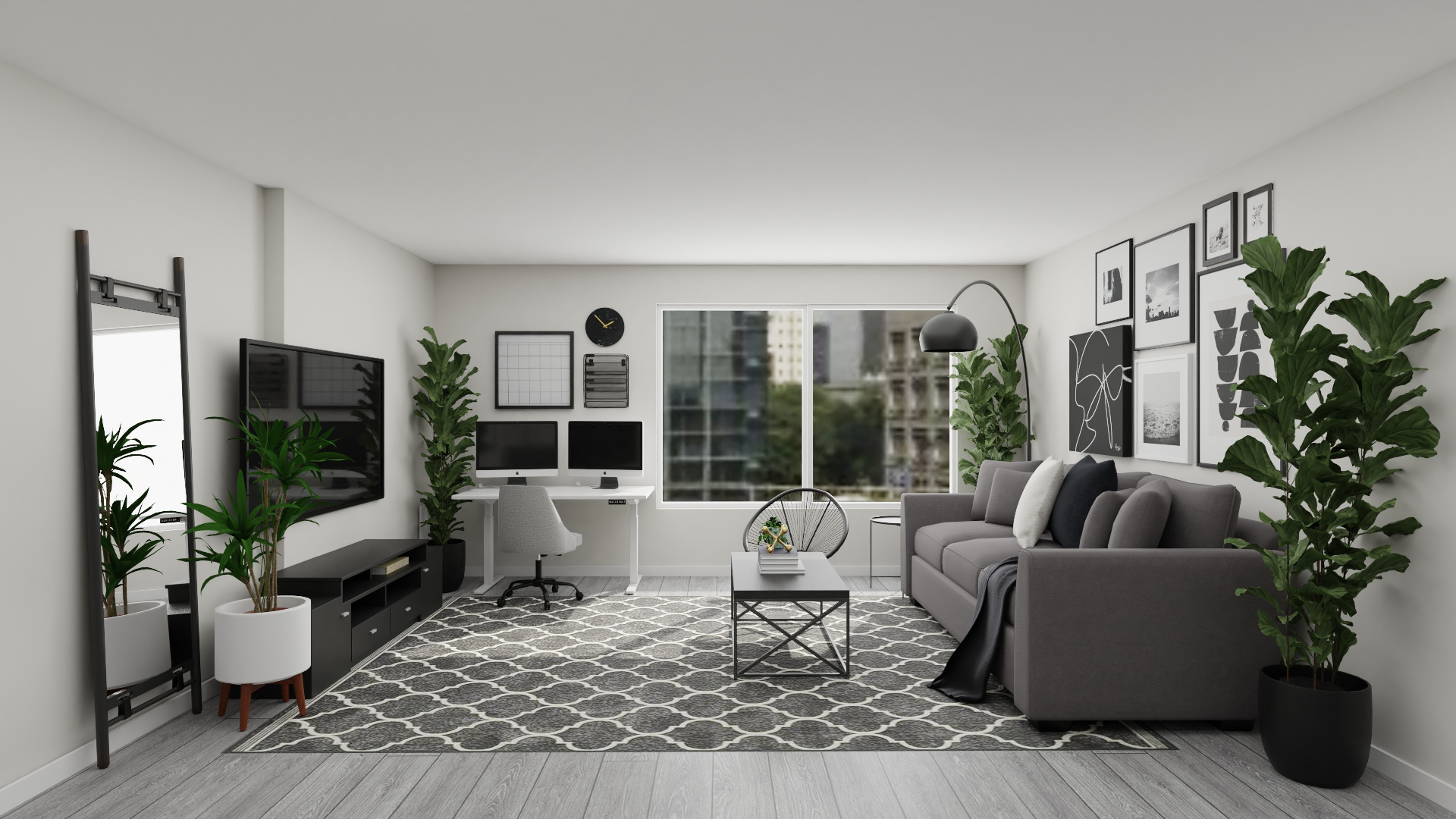 If your accent wall runs on the smaller side, you can incorporate some large plants to frame the TV and its console unit. Greenery can be an excellent resource to elevate the way a room looks. We framed the TV with a pair of faux potted plants for this space, but we also added a small floor mirror.
By incorporating the mirror slightly behind one of the plants, we instantly created the illusion of a more spacious living room. Plus, the wall mirror also doubles as a decorative statement piece without adding much to the wall. Besides, it's a nice plus to have a large mirror placed by the living room so you can get a good last look at your outfit before leaving the house.
Finding More Ideas
When designing a bohemian-inspired room, the options are endless. Dear reader, we hope these ideas help ignite your creativity and give you the confidence you're looking for to spruce up your room. For more ideas and help with your living room's layout, you should start a project today to work with one of our online interior designers. Together, we'll look at your current items, your style, budget, layout, and more to create the ultimate space that inspires nothing but joy. Trust us on this one; once you see your real-life 3D rendering of your new space, you're not going to believe the possibilities.