With so many of us working and studying from home, setting up the perfect desk area is vital. One of the most significant home office ideas to focus on when looking for home office inspiration is lighting. Believe it or not, the type of lamp you have on your desk can make or break your day. Not to mention, lamps are a huge decorative element when it comes to home office decor. 
5 Tips to Pick the Perfect Desk Lamp
While it might seem like a less than important purchase, your desk lamp is one of the most important pieces of your desk setups after your chair. With so many of us spending over eight hours staring at our computers, working, or at school, lighting takes on a whole new level of importance. You've probably noticed that you feel more tired, or your eyes are exhausted after a long day of staring at a computer without proper lighting. Hence, why it's so important to pick the right lamp.
Invest in high-quality lighting: Opt for an LED light lamp that offers customization such as a high Color Rendering Index (CRI). Look for LEDs with high CRI ratings between 85 and 100. And you also want one that adapts to either "warm" or "cool" tones, so you can choose your preference.
Look for adjustability: Make sure your desk lamp can bend in different ways so you can adjust your beam light. Even if you use a traditional table lamp, you want to find adjustability by choosing one with a dim light instead of a steady light, for example.
Pick the right size: Yes, desk lamps aren't universal. If you have a small desk, clip-on lamps or lamps with small bases will save the most desk space. If you have a larger desk, consider a lamp with extra reach, similar to architectural lamps. As a general rule, your light source should be positioned higher than your head but out of your eyes.
Play with positioning: The lamp should be placed so that shadows don't streak across your desk as you work. For right-handed, this means putting your lamp on the left side of your desk, and vice versa. When used with computers, desk lamps should illuminate the desk and keyboard without causing glare on the screen.
Pay attention to the on-off switch position: It should be easy to turn your desk lamp on and off. You shouldn't have to play magic tricks to reach for the power switch. Good on-off switch options include pull chains, base switches, and touch operation lamps.
Beyond the design, you'll easily find the best desk lamp if you follow these guidelines. Of course, our suggestions below will add the styling and glam you want to infuse in your home decor. But, that doesn't mean you have to let go of functionality and practicality.
Our Favorite Desk Lamps Out There Right Now
With so many options for desk lamps available, finding the perfect one can seem like an impossible mission. Am I right? Alright, without further ado, let's look at some modern home office ideas and the best lamps to brighten up your desk area. Keep in mind, when choosing one for your desk area, you want to consider the tips previously discussed. 
Everyone with a small home office knows the struggle is real. Keep your desk lightened up without taking up too much space. The wireframe lets you stack items behind this lamp or stack it over books to add height without taking up too much space. You can always wrap the gold cord around the base of the lamp to bring the power-on-off switch more accessible from the table's surface. Or you can leave it hanging by the side, like in the picture above, to turn your lamp off after a long day of working from home. 
The ultimate desk accessory for your modern home office space. This shell-shaped lamp is a modern take on classic mid-century style. Plus, the minimalist frame makes it perfect for small desk areas. It heads tilts so you can direct light weather you need it the most, which means this lamp is another excellent option for nooks and desks.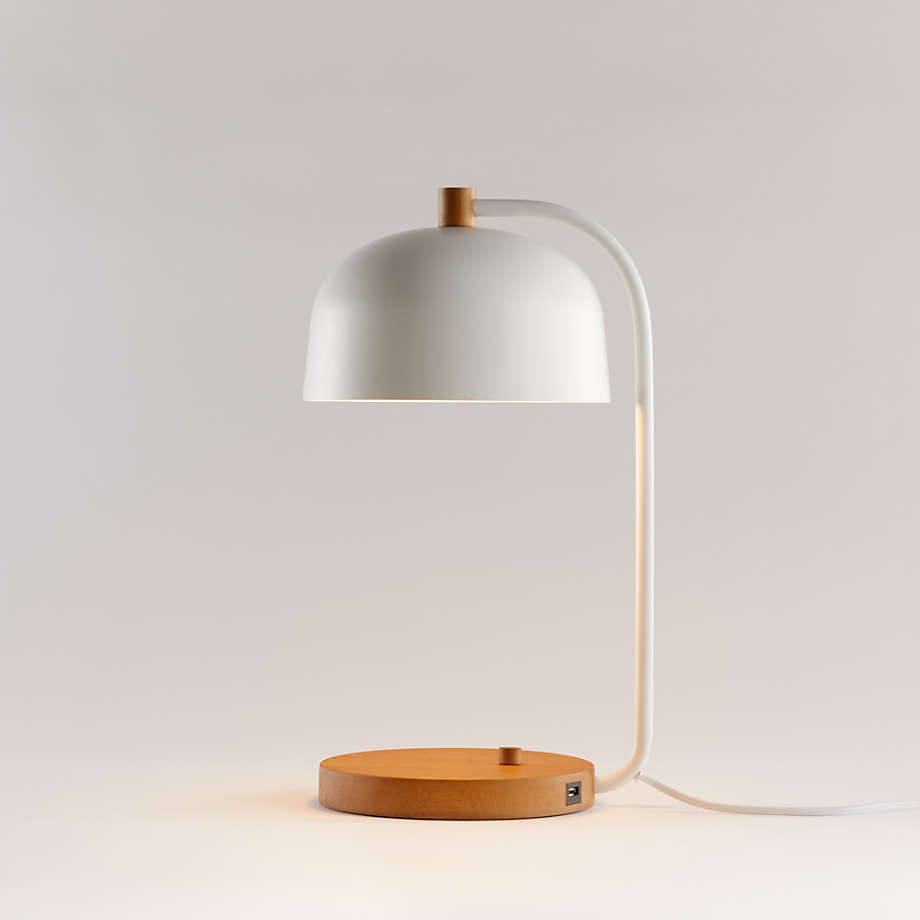 The perfect lamp companion for the tech-obsessed. I love how the switch button is on the base, so you can have complete access to it without too much trouble. This contemporary mid-century style lamp features a convenient and discreet USB port for charging your phone. Or, in my case, for plugging my coffee cup warmer plate.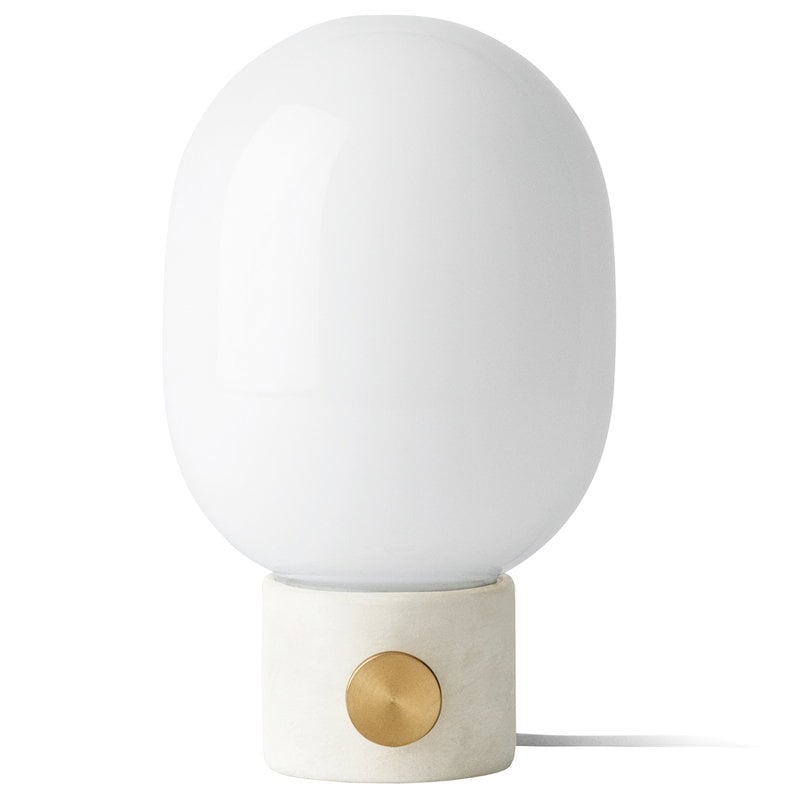 Your desk lighting plays a significant role in how energized (or not) you feel throughout the day. If you're anything like me, you prefer soft lighting that gives the illusion of natural light. Well, this compact, elegant, and delightful desk lamp does precisely that. This is an excellent example of additional lighting you can add near your desk area to lighten the room, in case you prefer a more direct desk lamp. 
If you're looking for modern home office ideas, then this lamp has to be on your list. Available in both matte and metallic finishes, this lamp will add just the right amount of personality to your office space. Its mushroom head style is perfect for preventing any glaring light going straight to your eyes or your screen. However, this might not be the most superb option if you're working on a larger or longer desk.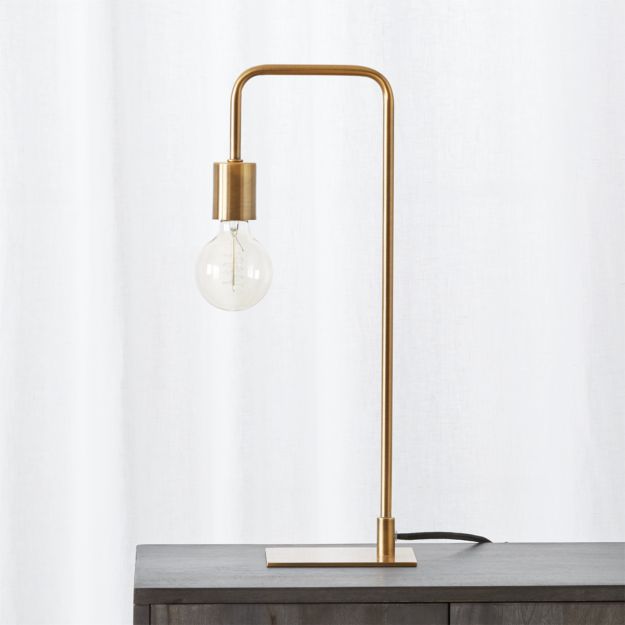 When you don't have too much space to add a lamp, but you still want something that will brighten up space and bring tons of style, then this is your lamp. The vintage style will work perfectly as a contrast on your modern home office, and the antiqued brushed brass finishes make it look elegant and luxurious altogether.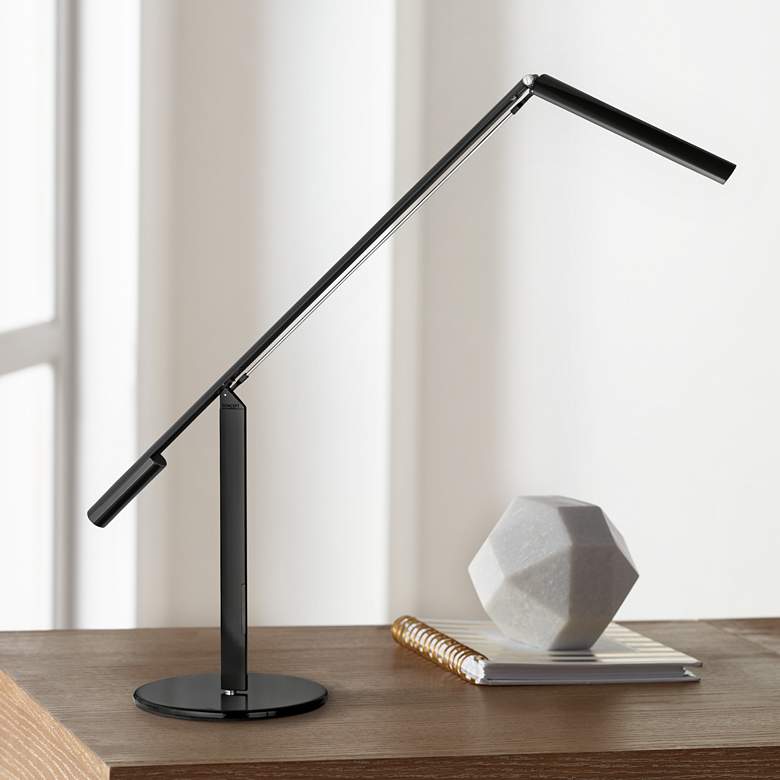 Why have one general light option, when you can have one that moves and adapts with you? The floating arm raises or lowers effortlessly while the tilting head can rotate 180 degrees to help you personalize your lighting experience. We also love that this lamp features a dimming button whenever you want to adjust the light. Here's the perfect example of what lamp to get when you have a long desk and need lighting at different sections depending on the task you're handling. 
If you're looking for the most classic modern home office style, then you need this lamp. Its mid-century lines and white and gold brass finishes are perfect to upgrade your desk style. Plus, a hidden USB port on the back will help you keep your tech accessories with full battery all day long. These are my favorite types of desk lights. The head makes sure there's no direct light pointing at my eyes, and the light they use is often softer than other styles. 
Ready to Start Designing Your Home Office?
Now that you have placed some thought to the importance of choosing the right desk lamp. Do you think you have the right style at home? Maybe you realized that the one thing bothering from your work-from-home setup is your desk lamp. Don't worry, if you're looking at your home office and think some pieces are missing, then start a project today. Work with our interior designers to complete your home office space and turn it into an oasis of productivity and inspiration. We'll help you figure out what elements are missing from your office space and home. And of course, we'll work tirelessly to help you find the ultimate desk lamp for your home office.