Listen, I might be writing this from sunny Florida where it's 97-degrees outside. But, even a sunny Floridian like myself can't escape the pleasure that comes from sipping on a pumpkin spiced latte while dreaming about fall weather. As summer turns to fall, it's time to celebrate the season that's all about cozy nights in. Now that we're spending so much time indoors, it's the perfect opportunity to get the most out of our fall decorations and set the tone for the comfiest of seasons. 
So, whether you're all about garlands and pumpkin-theme everything, or someone who likes to add a few seasonal colors here and there, this fall decorating guide will give you plenty of ideas on how to decorate your home for this season.
Let's Cover Our Bases
Before we even start moving furniture around and adding pumpkins on every corner, we have to cover our bases. Fall is all about comfort, colorful leaves, and chunky textures. Even if you don't want to make major decorations, you can still use these rules to help you change your home's look to make it feel more fall-themed.
Bring On the Autumnal Accent Colors
Everyone thinks that fall colors are only burnt oranges, browns, and yellows. Yes, those are the most traditional colors. But, whites, grays, soft browns, and other neutral colors can also mean fall. What this means is that you don't have to go all crazy and repaint your living room orange for the season. Soften your palette with muted, subtle botanical accents that instantly make your space feel more autumnal.
Wrap Yourself in Cozy Textures
Hopefully, you live in a place where the temperature drops, and that invites more cozy nights in. We can still create the same look for all of us in hot weather areas, thanks to cozy textures. Swap your throws for knits and flannels, maybe even add some faux fur pieces. Themore texture you add in, the cozier and fall-ready the space will feel. We stand by the rule, that there can never be too much texture in a room.
Add Classic Fall Prints Everywhere
Like the textures, the prints you have in your home can make a huge difference. When you change your classic stripes for plaid, it instantly screams fall. Whether you choose to stay traditional with plaid or try something different like trees or leaves, you'll find fall-themed prints all around. 
Spruce Up Your Front Door
Alright, now that we have our bases covered, let's move to the front door. When you don't want to change your indoor decorations, adding a few fall-themed accents to your front door can still give you that same change of look you want.
We all know that pumpkins and wreaths by your doorstep are fall time must-haves. But, consider taking it a step further with a black-and-white plaid rug. After pumpkins, nothing else screams fall like a buffalo plaid pattern. The Buffalo Plaid Rug from Etsy is the perfect example of how to get this look. 
If a DIY wreath project is not likely to be in your future, don't worry. You can find thousands of festive wreaths designs out there. Choose from pumpkin-themed, flowers, or ribbon wreaths that instantly make your front porch look like it just came out of a Hallmark fall movie. Use this opportunity to get rosemary, eucalyptus, or pine wreath. The scent will make you smile every time you open your front door. I love the Dried Autumn Pumpkin Wreath from Pottery Barn because it features a little bit of everything that makes fall so special.
Create a Warm Welcome
If you've been delaying updating your entryway area, this is your chance. It doesn't get much cuter than a fall-like front door area. You don't have to redesign the entire entryway, but you can add a couple of elements by the corner front entry like pumpkins, dried plants, and maybe some fall-inspired planters to set the stage.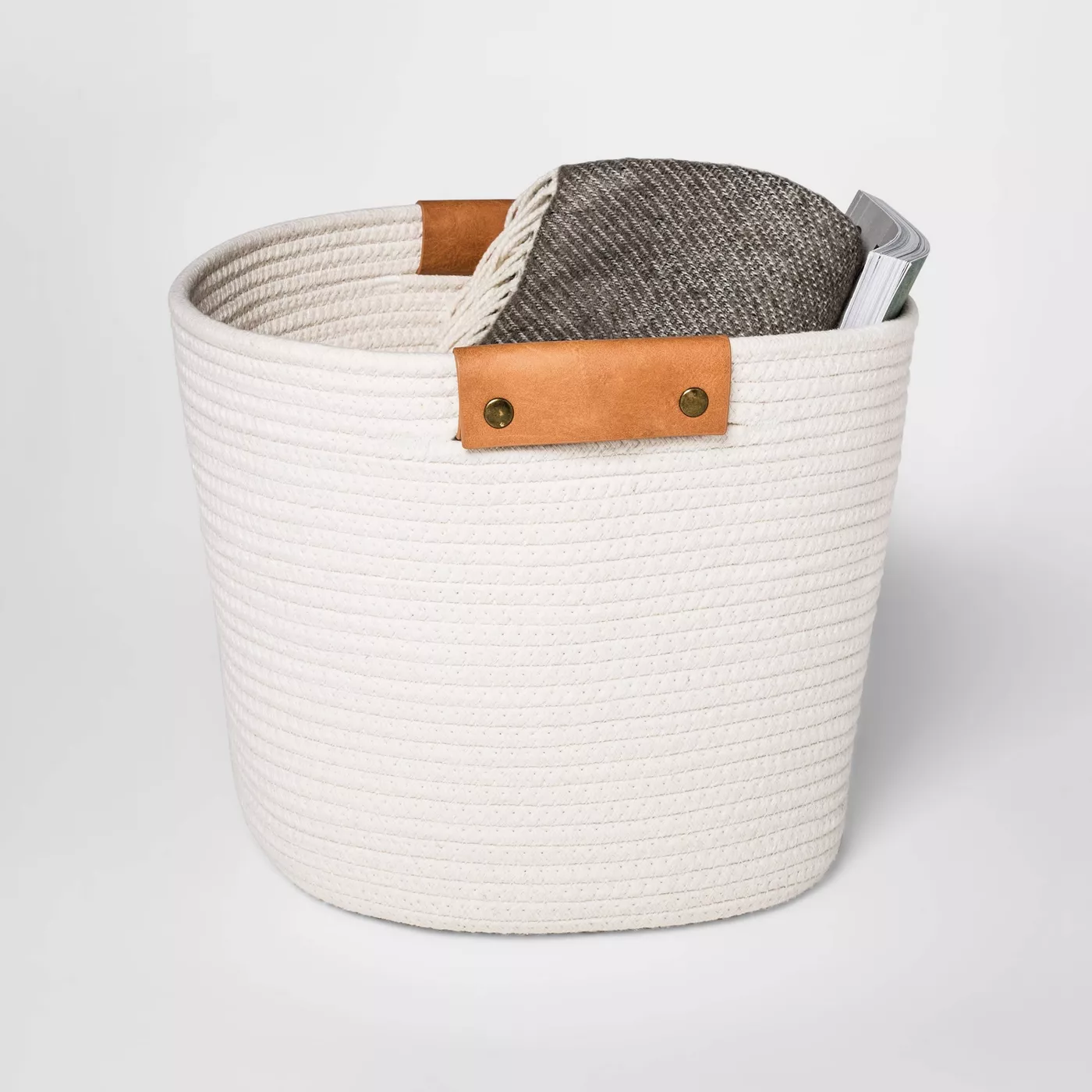 Funny enough, you might already have some fall items at home, you might not realize it. For example, setting up this Decorative Tapered Basket from Target by your entryway serves as a cute textured element that doesn't necessarily have to be fall-themed. This basket is the perfect catchall for shoes, umbrellas or other out-the-door items. The key here is to play with different features that, when combined, give you that warm and cozy feeling. 
We also love giving this special basket an alternative function. Instead of using the basket to store away throws and pillows or other items, stuff it with decorative pumpkins. Imagine how fun it will look, and it doesn't require much more than that to create a fall-style entryway. For this little project, here are some of my favorite decorative pumpkins, all of these are from Target: Cable Knit Soft Fabric Harvest Pumpkin, Carvable Plastic Halloween Pumpkin, and Tweed Fabric Harvest Pumpkin. Let your creativity run wild for this little project. You can add some dried stems, ribbons, or maybe a chunky sweater to create a fuller effect. 
[Pumpkin] Spice Up Your Living Room
Your living room is where all the coziness happens. Here's where you'll spend fall nights sipping hot cocoa and watching your favorite holiday movies. You want to spend some time thinking about the many ways you can incorporate fall decorations into this space. 
We'll repeat this, you don't need to add a pillow that says "hello fall" to set the stage for your decor. Instead, focus on textures and colors that give you that fall-vibe. For example, these Tufted Dot Pillows from Grandin Road are perfect. They'll add just the right amount of fall-vibes to your home without overpowering the rest of your decor. 
When you're in your living room, it doesn't matter if you have the cozy sweater, the hot cocoa, and the pumpkin spice latte scent. If your fireplace mantel is missing fall coziness, your perfect living room scene won't have the finishing touches. Make a beautiful statement with the Fall Greenery Garland from Etsy that includes white pumpkins, eucalyptus, and fall leaves so you don't have to worry about looking for more accessories for this space. 
Go All Out with Dining Room Decor
If you're planning on entertaining during the holidays, then you have to bring the big guns to your dining room decor. I'm talking fall-style serveware, napkins, centerpieces, and more. Fall is about being inviting and feeling the warmth of love coming from those around us. Use your dining room area to showcase your beautiful decor. 
Make your dining table the center of attention with a beautiful centerpiece. Choose one with pumpkins, pine cones, and other fall-themed florals and leaves to bring the outdoors indoors. I'm obsessed with this White Fall Pumpkin centerpiece from Williams Sonoma. It's so simple yet striking at the same time. Depending on your table size, you can add one massive centerpiece or pair them with candles or other dried leaves on the table to set the stage. Perhaps you can even throw a table runner in the mix if you have room.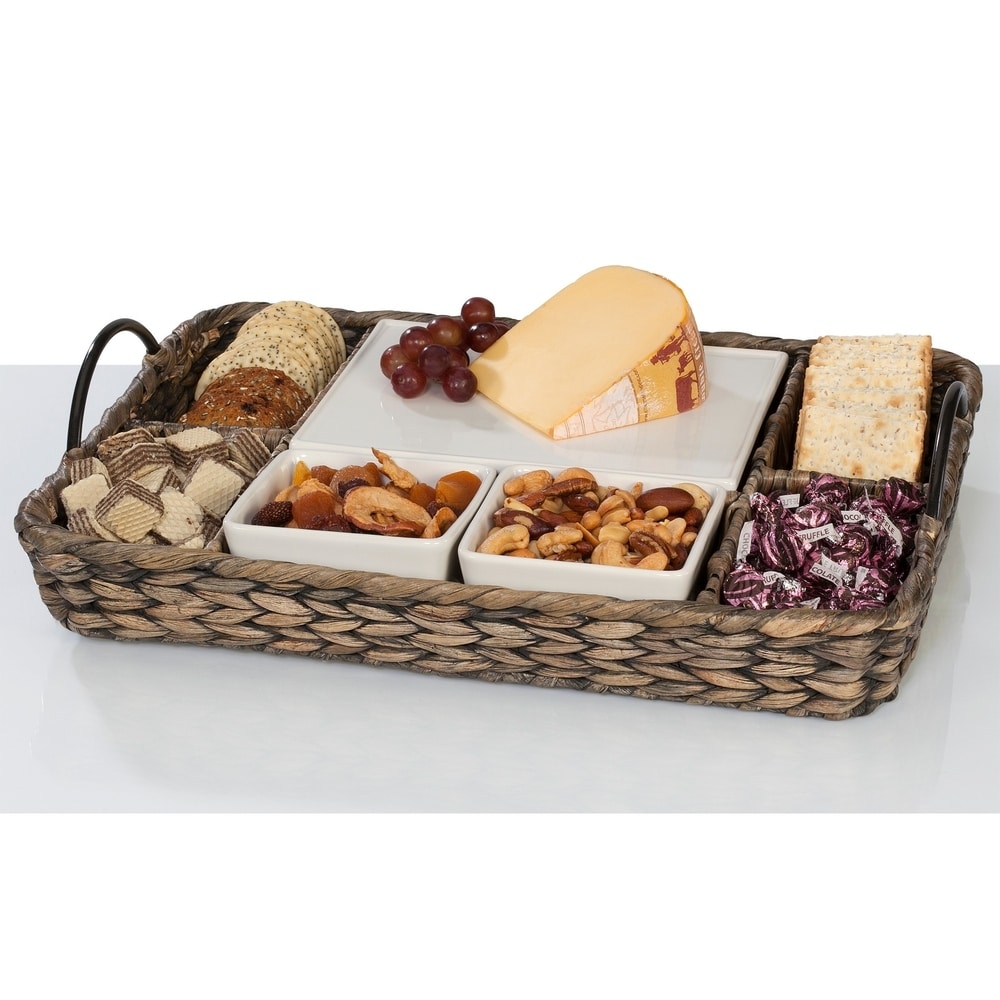 Resist the urge to get corny fall-themed serveware you'll only take out during Thanksgiving. Instead, try to find fall-style pieces that will still work on other seasons. For example, this Creative Ware Complete Hostess Server from Overstock is a perfect choice. It comes with a weaved basket that gives you those fall-vibes you badly want. 
Dream About Pumpkin in Your Bedroom
Well, we couldn't leave the coziest room of the house without getting a fall makeover. It doesn't take much to make your bedroom feel and look like it just came out of a fall movie. By switching a couple of items like your bed throw and maybe your scented candles, you'll have a cozy room worthy of those holiday movies you obsessively watch during this season. 
A chunky throw blanket can make a huge difference in the way your bedroom looks and feels. We couldn't decide on a single one, so we've brought you a few. Our favorites are the Sandrah Throw Blanket from Urban Outfitters and the Nader Blanket from Wayfair. Both have soothing fall colors in washout styles and those cozy, chunky textures that we all love being wrapped in as we watch our favorite movies or read our favorite book cozying up in our reading nook.  Click through our gallery to see our top picks from Anthropologie and Pottery Barn. 
We purposely left the fall candles for the end. While you can virtually add candles in every single room of your home, I think they have their biggest enjoyment in the bedroom. Instantly turn your bedroom into a fall oasis with these cozy fall scents. Go classic with a Pumpkin Vanilla Creme candle from Bath & Body Works, or try a more modern scent with this Pumpkin Jar Cashmere Candle from Target. Either way, both options add a touch of fall-vibes to your bedroom and double as cute decorative accessories. 
Dreaming of Fall Vibes
We covered a lot of different ways you can create the ultimate fall home. If you want to see how you can incorporate all of these tips and tricks with your existing decor, why not work with one of our online designers. Start a project today, and let's dream about all the fall decor upgrades we can add to your home this season.